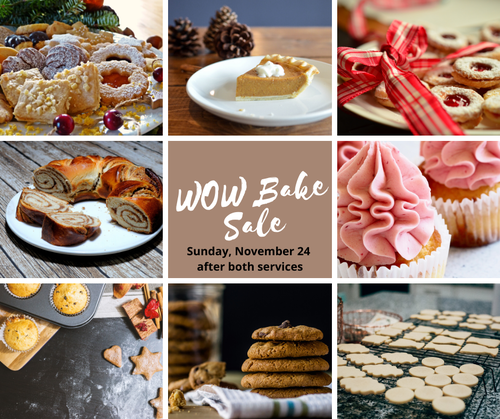 By Kathy Smar, Bake Sale Coordinator

Donations of homemade baked goods such as pies, cookies, cakes, breads, and muffins are appreciated.

Please package your baked goods in disposable containers and bring them to the church kitchen or down to the lounge on Saturday, Nov 23rd between 11:00 AM and 2:00 o'clock. PLEASE NOTE THE NEW DROP OFF TIME!!!!

Volunteers are needed on Saturday to help set up the bake sale and on Sunday to help during the bake sale and clean up. Like the Marines, we could use a few good men to help with the clean up!

Donation/volunteer forms will be placed in your mailbox. Please put the completed form in the striped box on the bake sale table in the narthex. The box will also contain blank forms in an envelope attached to the front.

We know there are numerous baking talents at COS and look forward to your participation. If you have any questions, please contact Kathy Smar 734-522-5341.

Money earned from the bake sale enables WOW to contribute to missionaries and our COS youth programs, contribute to the shipping costs of quilts, hygiene kits and school totes and to provide funding for representatives to attend LWML conferences. WOW funds provide starter funding for our annual women's retreat. All women of COS are members of LWML and WOW. Come join us at our monthly meetings. We look forward to meeting you.